Technology
MRBSH330 Die cutter for Insulation sheet
Realize high efficient machining on micro shape machined by small diameter end mill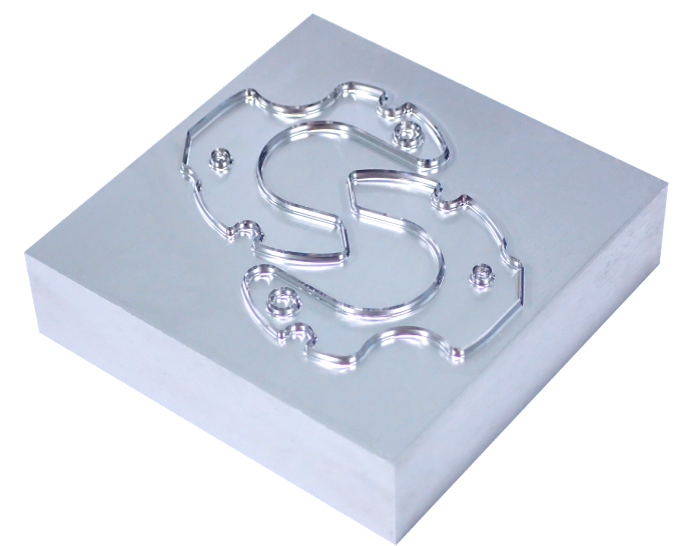 Work material : HAP40(64HRC)
Work size : 50×50mm
Depth of cut : 20mm
Coolant : Oil Mist
Total machining time : 6hr52min
Tool


●High-efficiency 3-flute ball end mill optimizes a shape of central edge and enables high depth of cutting.
●Even hardened steel of 45 to 70HRC can be machining with long tool life and high efficiency.
●R accuracy is ±0.005mm (R accuracy is based on a half value of actual diameter).
●Shank diameter tolerance , high accuracy type, is - 0.001 ~ - 0.003.
Cutting condition
| | |
| --- | --- |
| | |
| Finishing area ① | Finishing area ② |
Process
Roughing①
Finishing①
Roughing②
    
Roughing③
Semi-finishing
Finishing②
         
Tool
     
MRBSH330
R1×3
MRBSH330
R0.5×2
 
MRBSH330
R0.3×1
MRBSH330
R0.3×1
    
Spindle speed
(min-1)
20,000
 
25,000
Feed
(mm/min)
3,000
      
1,500
      
2,100
1,080
800
   
Depth of cut
ap×ae(mm)
0.23 × 0.3
ae 0.05
0.02 × 0.1
0.015 × 0.05
Z pitch 0.02
Side:Z pitch
0.003~0.01

Bottom:ae 0.05
Stock
(mm)
0.05
0
0.03
0.015
 
0.005
 
0
Time
37min
  
33min
  
1hr26min
  
42min
  
39min
2hr55min
Result
【Accuracy】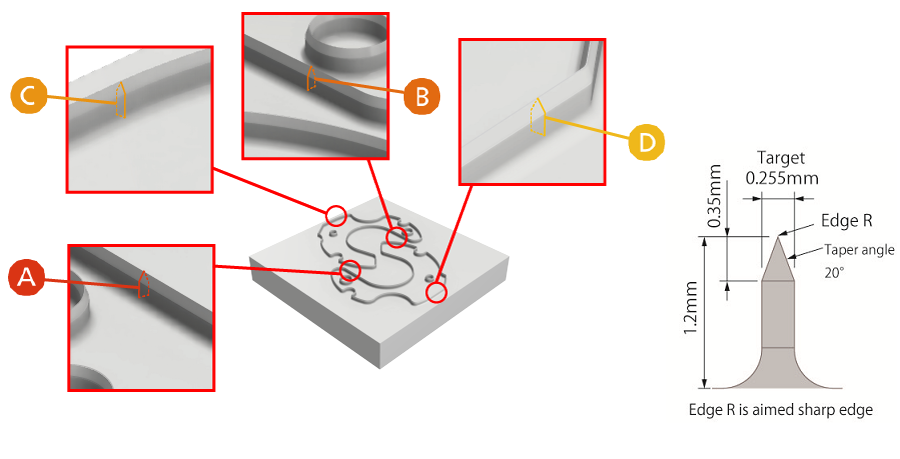 Unit[mm]
Width
Target
0.255
Actual
0.260
0.258
0.259
0.260
Error
+0.005
+0.003
+0.004
+0.005
Edge R
0.0018
0.0027
0.0025
0.0025
【Surface roughness】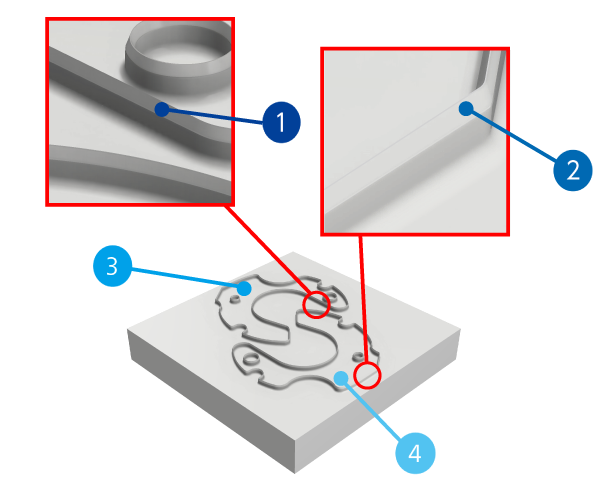 Unit [μm]
| | | | | |
| --- | --- | --- | --- | --- |
| | | | | |
| Ra | 0.070 | 0.070 | 0.303 | 0.328 |
| Ra | 0.387 | 0.355 | 1.719 | 1.699 |