Technology
Thread Milling Model
Alloy718
MMTM / M-Thread Mill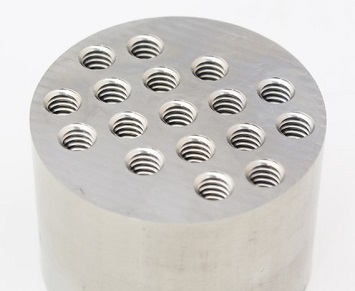 Work size: 56×36×46(mm)
Material: Alloy718(Equivalent Inconel®718)
Cutting Time: 18 sec per thread
Sample of machining super heat-resistance alloy with the MMTM reduced cutting deflection remarkably compare to taps. By the blade shape that attached great importance to the sharpness, machining precision improved. MUGEN-COATING realized to prolong tool life.
Tool

•Improvement of cutting accuracy by adoption of tool design focusing on sharpness.
•MUGEN-COATING realized long tool life.
Cutting Conditions
Cutting process
Thread milling
       
Tool
MMTM M3
Spindle speed
(min-1)
3,000
Feed
(mm/min)
200
Depth of cut
ae(mm)
0.145 × 2 times + Zero-cut
(Helical R0.36)
Depth of thread
(mm)
6.0
Coolant
Water-soluble fluid
Cutting time
18 sec/hole
Comment
MMTM can cut super heat-resistance alloy stably which was difficult with conventional type of tap.