Technology
Deep Milling Model
STAVAX 52HRC
MRBTNH230 / Long Taper Neck Ball End Mill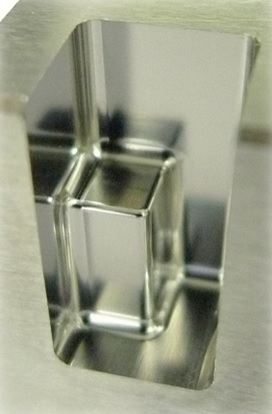 Work size : 7.5 x 7 x 12 mm
Material : STAVAX 52HRC
Cutting Time : 2hr26min
More rigidity by adopting new designed taper neck! Realized high precision deep milling to the hardened steels.
Tool


•Taper neck type ball end mill improves accuracy for deep milling.
•Optimized taper neck design and MUGEN-COATING PREMIUM realized to show its higher ability for hardened steels.
•Lineup of total 159 sizes with high versatility 2-flute end mills.
Cutting Condition
Cutting process
Roughing
Stock removal
Semi-finishing
Finishing
Tool
MRBTNH230
R1×1°30'×12
MRBTNH230
R0.5×1°30'×12
MRBTNH230
R0.5×1°30'×12
Spindle speed
(min-1)
18,000
15,000
12,000
12,000
Feed
(mm/min)
2,000
600
500
300
Depth of cut
ap×ae(mm)
0.15×0.35
0.025×0.08
0.02×0.02
0.01×0.01
Coolant
Oil mist
Cutting time
14min
12min
23min
1hr37min
Comment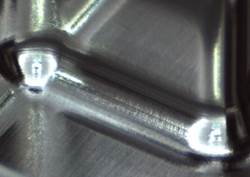 Accurate cutting has realized in tolerance -0.004mm. Also realized the surface roughness of Ra 0.121 μm and Rz 0.898 μm without chattering.