Technology
Reflector Model
ELMAX / 60HRC
SFB200 / CBN Super Finish Ball End Mill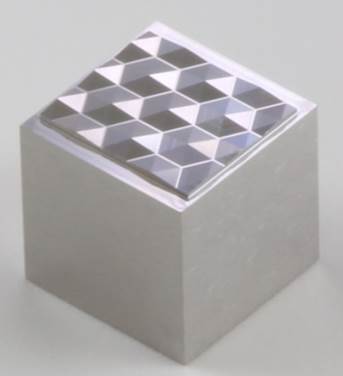 Work size: 20×20(mm)
Material: ELMAX 60HRC
Cutting time: 19 hr 10 min
Sharpened edge at R-center improves shearing ability!
Save significant time at finishing process.
Tool


•Sharpened edge at R-center improves shearing ability.
•Continuous 10 hours machining on hardened steel of 60HRC.
•Long-lasting high surface accuracy Rz1.0um.
•Save significant time at polishing process.


•Lineup of CBN tool with long neck applicable to deep milling, available 25 sizes in total.
•Enables milling more deeply by long effective length up 10mm comparing with conventional CBN tools.
•Enables wider application for milling by long neck in addition to long life and accurate finishing.
•Standardized in R0.05 at smallest.
•Unique flute design with R-accuracy ±0.003 prevents chipping!


•Standard ball end mill for hardened steels and suitable for finishing process.
•Applicable for hardened steels up to 68HRC.
Cutting Conditions
Cutting process
Roughing
Semi-finishing
Finishing
Tool
MSBH230
R0.2
SSBL200
R0.2×1.2
SFB200
R0.2×1
Spindle speed
(min-1)
40,000
Feed
(mm/min)
800
700
400
Depth of cut
ap×ae(mm)
0.015×0.05
0.005×0.01
0.004×0.002
Cutting length
(m)
119
61
268
Coolant
Oil mist
Cutting time
3 hr 23 min
2 hr 10 min
13 hr 37 min
Comment
CBN-utilized design realized more than 10 hours of continuous finishing process to high hard material as 60HRC.
Surface roughness was Rz 79.6 nm and Ra 13.1 nm.