Products
Feature of NS TOOL Original Coatings
Hardness (Hv)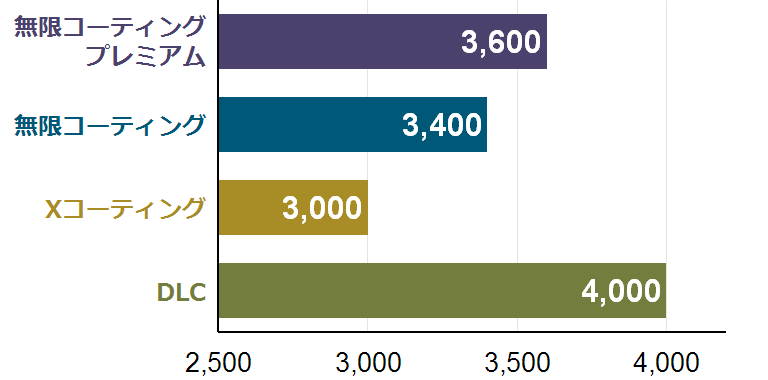 Oxidation Temperature(℃)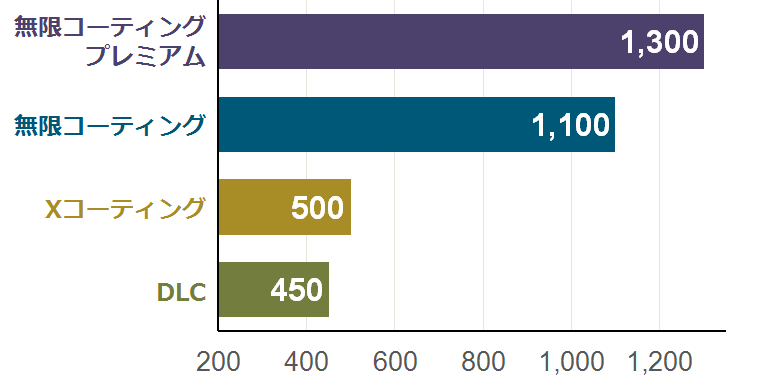 MUGEN-COATING PREMIUM
MUGEN-COATING PREMIUM has improved features to hardness Hv 3,600 and oxidation temperature 1,300°C from MUGEN-COATING, to prolong tool life in direct cutting of high hard materials such as 48-65HRC.
[Material] HAP40 60HRC (Powder HSS)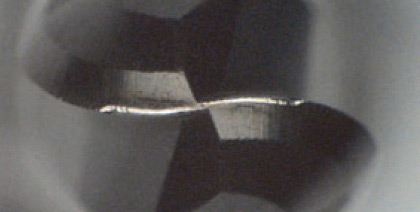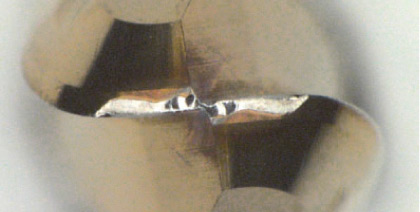 n:20,000min-1 Vf:1,600mm/min ap:0.15mm×ae:0.3mm
Oil mist Cutting time:18min Cutting length25m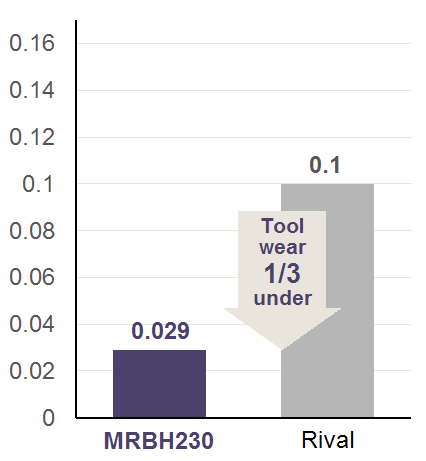 [Material] PD613 60HRC(SKD11)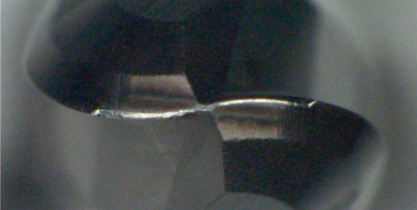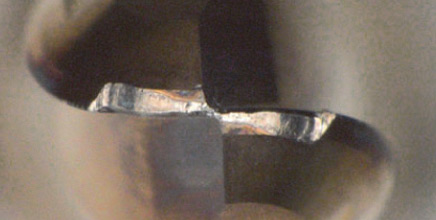 n:25,000min-1 Vf:2,000mm/min ap:0.2mm×ae:0.3mm
Oil mist Cutting time:62min Cutting length100m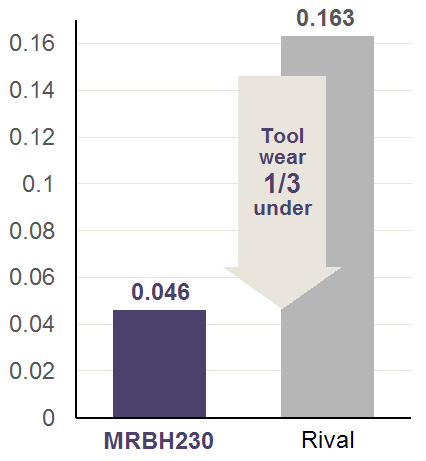 MUGEN-COATING
Even TiAlN based coating, MUGEN-COATING has excellent characteristics of hardness Hv 3,400 and oxidation temperature 1,100°C. It brings high rigidity and lubricity for machining hardened steels (60HRC), prehardened steels, soft irons and coppers as following cases. Also suits to any coolant such as water soluble, oil, air blow and oil mist, MUGEN-COATING can be called mighty coating that applicable to any materials and coolants.
[Material] STAVAX 52HRC(SUS420J2)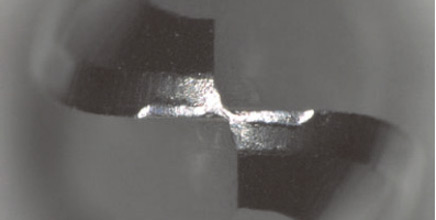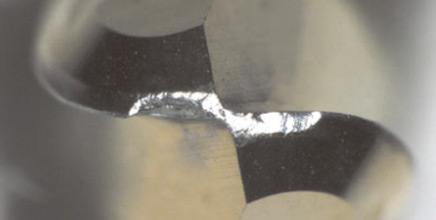 n:10,000min-1 Vf:1,500mm/min ap:0.1mm×ae:0.2mm
Water soluble fluid Cutting time:132min Cutting length150m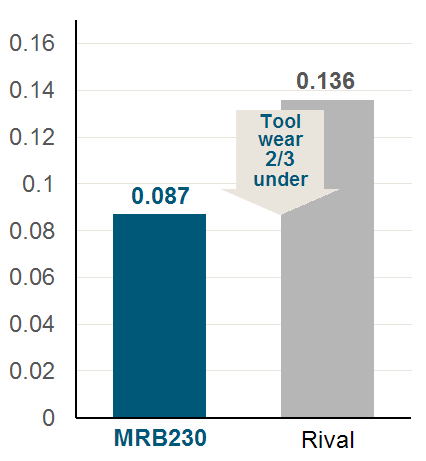 [Material] S50C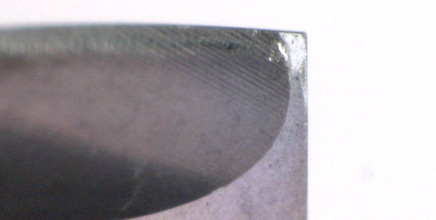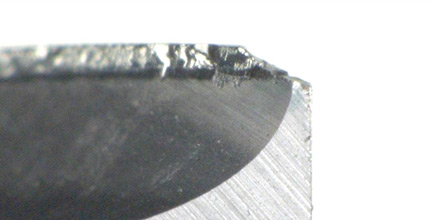 n:3,400min-1 Vf:600mm/min ap:9.0mm×ae:1.2mm
Water soluble fluid Cutting time:33min Cutting length20m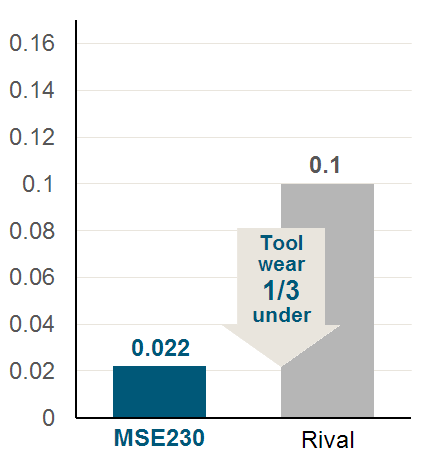 [Material] Copper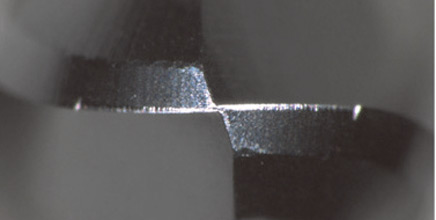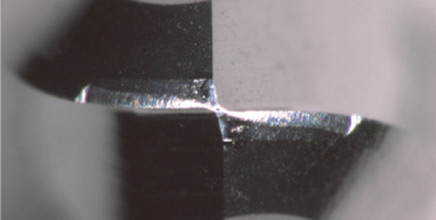 n:12,000min-1 Vf:1,200mm/min ap:0.2mm×ae:0.3mm
Water soluble fluid Cutting time:5hr44min Cutting length365m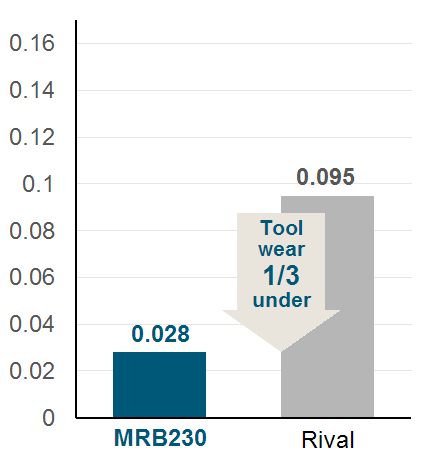 X-COATING
X-COATING is TiCN based coating with characteristics of high hardness Hv 3,000 and excellent adhesion, but weak in milling heat from high speed machining more than cutting speed 100 m/min. Accordingly, X-COATING achieves versatility in wet-cutting and general cutting condition with cutting speed less than 100 m/min.
DLC-COATING
DLC (Diamond-Like Carbon) COATING is composed from film like characteristic of carbon and made up of amorphous structure of diamond and graphite. Hardness is Hv 4,000 and friction coefficient is 0.1 μm. Coated surface is very smooth which achieves Ra 0.02 μm and very low welding that realizes excellent surface in cutting of aluminum. X-COATING is suitable for cutting nonferrous metals, especially for aluminums, but not for ferrous metals.
Application List of Coatings
Coating
MUGEN-COATING PREMIUM
MUGEN-COATING
X-COATING
DLC-COATING
Diamond Coating
Material
56〜65HRC
45〜55HRC
Prehardened Steels
Soft Irons
Coppers
Aluminums
Hard Brittle Materials
Graphite