The most suitable end mills for long-hour finishing process of high hard materials. End mills made of CBN sintered compact with hardness one rank below of diamonds as a raw material for tools.
What is CBN Sintered Alloy?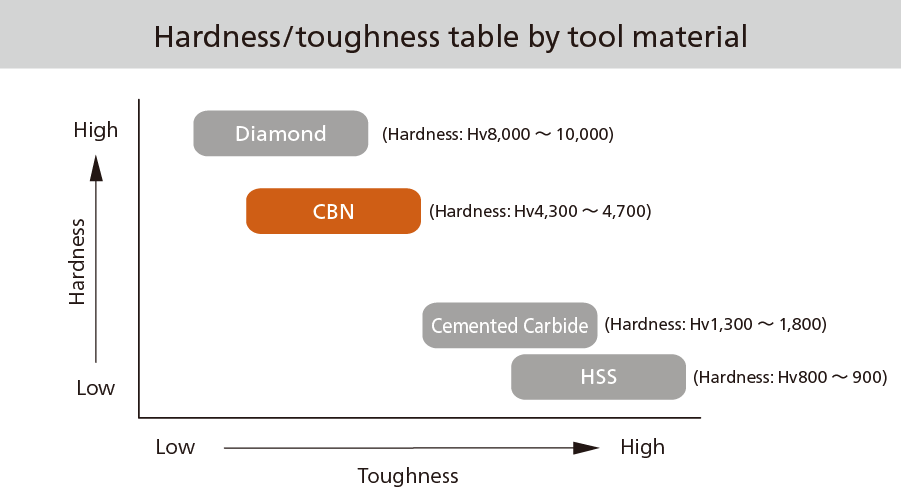 CBN (Cubic Boron Nitride) sintered alloy is second hardest material next to diamond as left figure, 3 times harder than Tungsten carbide, moreover having features of strong heat-resistance and high thermal conductivity. However, less tough characteristic of CBN often causes chipping of tool edge easily. Accordingly, CBN is recommended for finishing of hard materials with less cutting load on the tool edge, which guarantees extra-long tool life.
Comparison of Tool Life between CBN and Coated Tools
A CBN tool provides stable surface roughness even after machining 30 workpieces!
SKD11 (60HRC) Comparison and verification of finished surface roughness.
(Tool: Ball End Mill R0.5)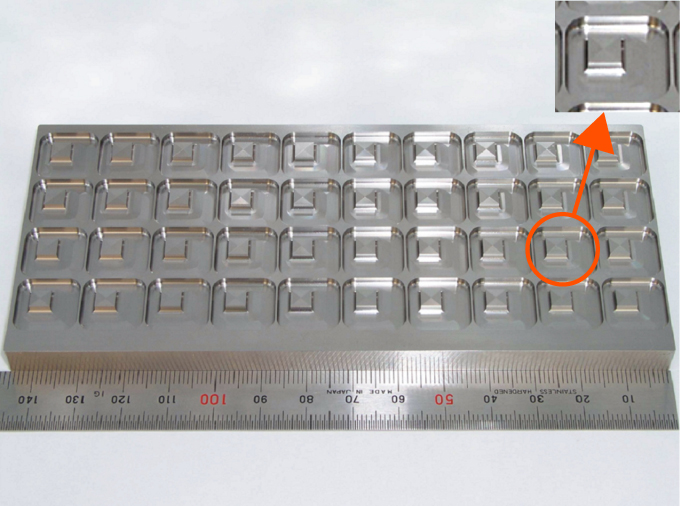 Surface roughness (Ra): 0.012-0.030 μm
| | 1 pockets | 10 pockets | 20 pockets | 30 pockets |
| --- | --- | --- | --- | --- |
| CBN Tool | 0.9 μm | 1.0 μm | 1.2 μm | 1.0 μm |
| Coated Tool | 1.0 μm | 6.2 μm | - | - |
Rich Lineup, Suitable to Various Machining
End mills of the next generation realized by developing a unique tool shape utilizing the characteristics of the CBN sintered compact with high hardness and thermal resistance and establishing grinding technology. Long life and stable finished surface are provided in finishing process of high hard materials.
Square End Mill
            
    
          
SMEZ120
⌀0.03∼0.1
    
SSE400
⌀0.1
SSE600
⌀0.2∼1
    
Ball End Mill
  
SMB120
R0.01∼0.05
SFB200
R0.1∼1
   
SSB200
R0.1~1
SSBL200
R0.05∼1
SSPB220
R0.1∼3
SSPBL220
SSPBTN220
R0.1∼1
Radius End Mill
  
SSR200
⌀0.2∼2
SHR320
⌀0.5∼2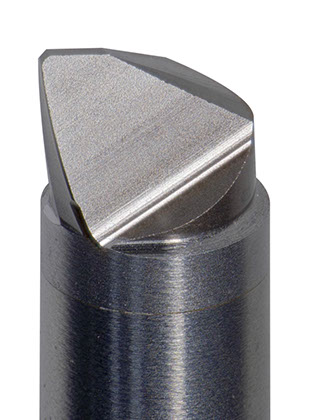 SSF120
⌀0.2∼2
(Face milling)
Deep Milling Model
Material
ELMAX 60HRC
Process
Finishing
Tool
SSPBTN220 R1×1°×16
Spindle speed
[min-1]
16,000
Feed [mm/min]
800
Depth of cut [mm]
ap 0.01
Stock [mm]
0.01
Coolant
Oil mist
Cutting time
8hr 47min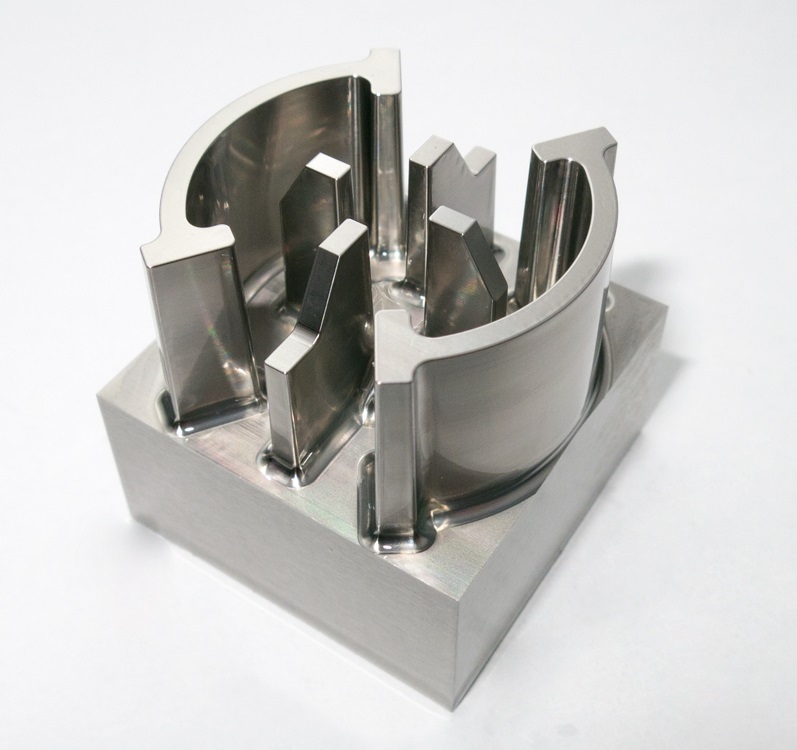 Work size:30×30mm/Cutting depth:15mm
【Cutting edge state after machining】
Tool wear:2μm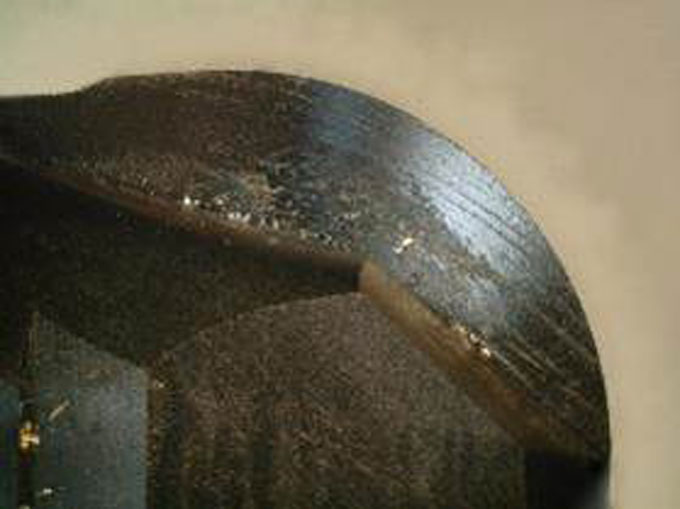 Pinch Shadow Ratio:200 times
【Accuracy】
Surface Roughness
(Ra)
0.05∼0.15μm
Tolerance
+0.004∼+0.006mm

Nano-level surface roughness can be realized, even when milling cemented carbide.