SHPR400 Released in May, 2020.
CBN end mill, optimized for finishing on hardened steels.
Improve machining accuracy.
New tool design of 4 flute corner radius end mill.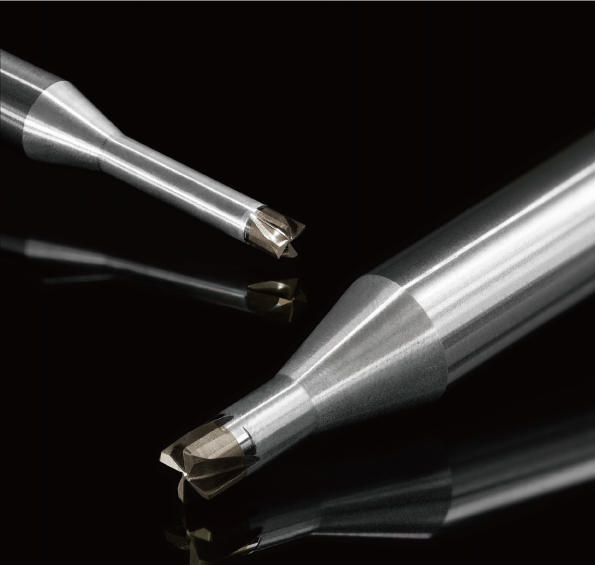 Prevent wearing progress is important step to achieve stable machining accuracy when direct finishing on hardened steels. NS TOOL developed a new CBN end mill, which has higher wear resistance than coated carbide tool. The new corner radius type「SHPR400」reduces machining resistance and further improve machining accuracy and tool life. NS TOOL grinding technology developed 4-flute design from φ0.1mm and improved cutting quality with sufficient rigidity to realize a long time stable machining with higher efficiency and accuracy on finishing process.
Specification
●CBN Super High Precision Radius End Mill 【SHPR400】

Design: 4 Flute Corner Radius End Mill
Material:CBN (Cubic Boron Nitride)
Size:φ0.1~φ3(Total 109 sizes)
Features: ・New tool design to reduce the cutting resistance for improvement of finishing accuracy.
     ・Achieved higher efficient machining and more stable tool life in micro machining.
     ・The shank diameter tolerance is 2μm, from -0.001mm to -0.003mm.
     ・Applicable to shrink fit holders, and realize high precision machining.
Details
For details of end mill, please Click!
For details of standard, please Click!
Leaflet
Click for PDF Leaflet